SkyWars
SkyWars | Minecraft SkyWars Servers | IP: skywars.com | Learn how to play SkyWars and become apart of the SkyWars Community
SkyWars Updates - June 6th, 2021
SkyWars - Added pets to Pro ranks.
Type of pets: Ocelot, Wolf, Pig, Chicken, Rabbit, Squid, Bat

Commands:
/pet select - Select a pet.
/pet name - Name your pet.
/pet call - Call your pet to your side.
/pet hide - Hide your pet.
/pet show - Show your pet.
/pet remove - Remove your pet.
SkyWars Updates - June 1st, 2021
SkyWars - Added /1v1s, also known as Duels.

SkyWars - Also added /stake, where you can stake Skybucks in a duel.
SkyWars - Added daily, weekly, and monthly leaderboard stats.
SkyWars - /sw start for Pro ranks have been nerfed to have a minimum of 4 players in a game first.
SkyWars - The Switch within the /shop has increased in price from 7 Skybucks to 20.
SkyWars - Glass is now blast proof from TnT and the custom items within /shop.

SkyWars - Fixed Night Vision going away after joining a game and returning to the lobby area.
SkyWars - Fixed issue of joining a game in the midst of a player already winning.

Few things to keep in mind on latest changes:
- 1v1 stats does not count towards the main stats, and instead 1v1s have their own stats and leaderboards.
- You cannot win money per kill or per win in a duel as well to counteract boosting.
- Max amount for staking is $50 per game.
Last important mention:
- We will not be adding the Pro kit to the Pro rank at this time. We may add it in the future if we can give some sort of cosmetic effect with it, but currently we need to be Eula Compliant, and unlike Skyblock, where there is no competitive advantage from receiving items, it is a competitive advantage to receiving items on SkyWars. We will be adding more features to ranks over time however and we do have a few things planned.
SkyWars Updates - May 21st, 2021
SkyWars - Added /daily (receive 5 free Skybucks per day)
SkyWars - Added /help menu.
SkyWars - Added two new NPCs at spawn.
SkyWars - Added broadcast messages for when a player completes the parkour at spawn.
SkyWars - Added a 25 Skybuck bonus for completing parkour 7 days in a row. View with /parkoursign streak
SkyWars - Removed the previous max balance cap.
Hello SkyWars community!
This month, we are hosting a Parkour competition! The objective is to complete the Parkour course in the lobby in the shortest amount of time possible. Whoever completes it the fastest wins.
Requirements/Rules
​
You must record your submission and upload it to YouTube or a similar platform and post the link to the video below to be entered. Each competitor is limited to ONE submission.​

You must begin recording before you start the Parkour, and end it after you click the sign at the end of the course.​

If possible, please include an on screen timer in your recording. The time starts once you jump onto the first block.​

Any manipulation of the video such as modifying the speed, cropping, etc. is not permitted and will result in disqualification from the competition.​

The use of any modifications/clients that give you an advantage against other players is not allowed and will result in disqualification from the competition as well as a ban from the server.​
Reward
The winner of the competition will get a choice between 1 year of Forums Premium
OR
the
Pro
rank in-game.
The competition ends
June 16th
.
Good luck!​
SkyWars Updates - May 12th, 2021
SkyWars - Added /ping (Allows you to check your connection)
SkyWars - Added /coinflip (50/50 bet with another player, only 1-20 skybucks)
SkyWars - Added Combat Tag. (To counter those that use /sw leave in combat)
SkyWars - Blacklisted /g and /global talk for those that are muted.
SkyWars - Nerfed TnT cannons price from 6 to 12 Skybucks.
SkyWars - Added lapis to /shop.
New font! We hope you like it as it will be here to stay!
Added Profile Banners to Skywars! You can upload a custom banner for your profile within a certain size requirement. You can unlock this perk once you have achieved 50 messages on the forums.
Added a requirement of posts to use post ratings. You must now have posted 10 messages anywhere on the forums that include the post count.
Introducing support tickets! If you have a payment related issue, or a problem that needs admin attention please submit a ticket here! https://skywars.com/support-tickets/
You can now hide your posts by using the buttons above the textbox when replying to a thread!
Created streamer rank
We have hit 200 members!
Thanks everyone, we are currently going through suggestions on the forums.

Fixed image size in signature to reflect Mineverse and Skyblock - this will no longer take up a large amount of space underneath a member's comment.
Snow added on to the forums (thank you matt!)
Edited how we appear when people google our forums/server to include the IP and a bit about us. It also includes some useful quick-links to the shop, the rules, the main forums page and recent activity.

Added some keywords so that people can find our website more easily.
Created YouTuber rank for our content creators who get accepted.
Based on user feedback, we have reduced the amount of messages needed to apply for the staff rank on the forums to 35 messages. Please ensure you still meet all other outstanding requirements before applying and that you do not post meaningless comments to boost your post count.
Notification broadcast sent out to all forums members about this change.
Welcome!
The SkyWars Staff Team has decided to host a competition for the Christmas season.
Your task will be to create a
Christmas
themed Discord banner and/or Discord icon for the SkyWars discord. The winning icon and banner will be set as the SkyWars Discord banner/icon for the entire month of December!
-Stick to the theme
-Be appropriate
-Do not copy others
-You may submit a
max
of one entry per task (1 icon and 1 banner)
Failure to follow these rules may result in your submission being deleted
You can enter this competition by using the template below:
IGN:
Discord Name and Tag (e.g Name#0000):
Picture of Submission(s):
In addition to having your banner and/or Discord icon added to the SkyWars Discord for the entire month of December, the winner of each will also receive their choice of a 25$ coupon for the SkyWars store, or 6 months of Forums Premium with the color of your choice.
(If you submit both and win both you will receive two prizes, if you submit both and only win one you will only receive one prize)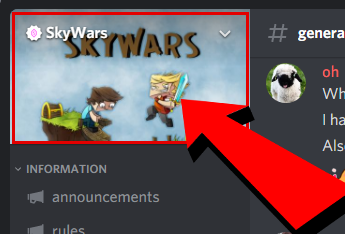 The image must be square and should be at least 512/512.
Taken from the discord support website.

1. Upload an...
Hi, new update after some time!
Added new contact details, including in-game name, twitch and youtube!
Created new trophy

Bleep bloop awards 10 trophy points if you have your discord tag set up with your forums account. Please allow some time for this trophy to come through.

Fixed moderation tools in the appeals section.
Changed premium banner text to white after feedback from players.
Hidden "about us" page on main forums node, but the link still works and includes the information.
Forums announces in-game now too!
Please feel free to suggest anything you would like for the forums in this section (click link below)!
Make sure to tag the suggestion with the forums prefix too.
https://skywars.com/forums/suggestions.10/
Have a great weekend!