SkyWars
SkyWars | Minecraft SkyWars Servers | IP: skywars.com | Learn how to play SkyWars and become apart of the SkyWars Community
New font! We hope you like it as it will be here to stay!
Added Profile Banners to Skywars! You can upload a custom banner for your profile within a certain size requirement. You can unlock this perk once you have achieved 50 messages on the forums.
Added a requirement of posts to use post ratings. You must now have posted 10 messages anywhere on the forums that include the post count.
Introducing support tickets! If you have a payment related issue, or a problem that needs admin attention please submit a ticket here! https://skywars.com/support-tickets/
You can now hide your posts by using the buttons above the textbox when replying to a thread!
Created streamer rank
We have hit 200 members!
Thanks everyone, we are currently going through suggestions on the forums.

Fixed image size in signature to reflect Mineverse and Skyblock - this will no longer take up a large amount of space underneath a member's comment.
Snow added on to the forums (thank you matt!)
Edited how we appear when people google our forums/server to include the IP and a bit about us. It also includes some useful quick-links to the shop, the rules, the main forums page and recent activity.

Added some keywords so that people can find our website more easily.
Created YouTuber rank for our content creators who get accepted.
Based on user feedback, we have reduced the amount of messages needed to apply for the staff rank on the forums to 35 messages. Please ensure you still meet all other outstanding requirements before applying and that you do not post meaningless comments to boost your post count.
Notification broadcast sent out to all forums members about this change.
Welcome!
The SkyWars Staff Team has decided to host a competition for the Christmas season.
Your task will be to create a
Christmas
themed Discord banner and/or Discord icon for the SkyWars discord. The winning icon and banner will be set as the SkyWars Discord banner/icon for the entire month of December!
-Stick to the theme
-Be appropriate
-Do not copy others
-You may submit a
max
of one entry per task (1 icon and 1 banner)
Failure to follow these rules may result in your submission being deleted
You can enter this competition by using the template below:
IGN:
Discord Name and Tag (e.g Name#0000):
Picture of Submission(s):
In addition to having your banner and/or Discord icon added to the SkyWars Discord for the entire month of December, the winner of each will also receive their choice of a 25$ coupon for the SkyWars store, or 6 months of Forums Premium with the color of your choice.
(If you submit both and win both you will receive two prizes, if you submit both and only win one you will only receive one prize)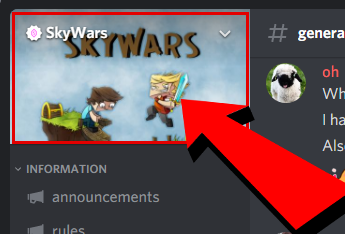 The image must be square and should be at least 512/512.
Taken from the discord support website.

1. Upload an...
Hi, new update after some time!
Added new contact details, including in-game name, twitch and youtube!
Created new trophy

Bleep bloop awards 10 trophy points if you have your discord tag set up with your forums account. Please allow some time for this trophy to come through.

Fixed moderation tools in the appeals section.
Changed premium banner text to white after feedback from players.
Hidden "about us" page on main forums node, but the link still works and includes the information.
Forums announces in-game now too!
Please feel free to suggest anything you would like for the forums in this section (click link below)!
Make sure to tag the suggestion with the forums prefix too.
https://skywars.com/forums/suggestions.10/
Have a great weekend!

SkyWars Updates - November 3rd, 2020.
SkyWars - Updated server to support Minecraft 1.16.4 clients.
SkyWars Updates - October 27th, 2020.
SkyWars - Fixed issues with some commands not working such as /msg.
SkyWars - Fixed issues with shop/stats NPC's not opening.
SkyWars - Modified broadcast messages.
SkyWars - Anti Cheat updates.
SkyWars Updates - October 7th, 2020.
SkyWars

- Improved the /help list. (let me know if anything is missing)

SkyWars

- Added /links, /discord, /rules, /report.

SkyWars

- Updated discord/website links in-game and on client menu.
SkyWars Updates - September 27th, 2020.
SkyWars

- Added 5 min cooldown on 'sw start' command for Pros.

SkyWars

- Disabled player collision.

SkyWars

- Added some commands to whitelist when a game starts.
​
Hi all another mini update. Unfortunately there was not a lot changed over the past 48 hour period because I have just started a new job and I am settling in, please bear with me although there will be some wonderful new updates coming in the future.
Fixed a bug where staff commands were not working, suggestions now get the prefix added, the thread moves and locks too. Previously nothing happened except the post being sent through.
NEW gold premium rank!
Changed premium pink to a slightly darker colour.
Premium section officially opened.
Please see below for the premium colour titles.


Player information changes can be requested in this thread, please do not reply to the thread unless you are making a request. Your request will be deleted once completed. Custom titles, DOB changes, name changes and others can be done through this thread. https://skywars.com/threads/member-information-change.106/
Forums games section added.
I hope everyone is enjoying all the new forums additions and once more apologies for the lack of updates lately! This is a general reminder to all users that post farming is
strictly
not allowed on the forums. I understand that players are excited with the release of the forums and some may want to reach the requirements for applications or reach the top of the leader board, however some posts seen by myself and staff on the forums have been irrelevant and look like they have been merely posted for the sake of gaining a post number....